Friday 21.05 – STUDIO #7
Are citizen movements a sign of a failing democracy or a democracy in resistance?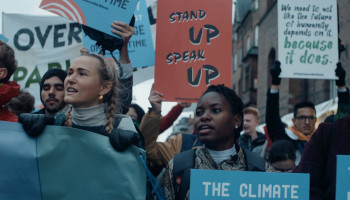 Has the health crisis stifled citizens' movements for good or has it forced them to momentarily revisit their modes of expression and action? What are the weaknesses and strengths of our current democracies? What are the democratic priorities we need to work on?
Films: Dear future children, Que no me roben los sueños, Square-eyed
FOLLOW THE STUDIO IN LIVE : 
Speakers
Zoé Brichau - Director of "Que no me roben los sueños"
Laure Massiet du Biest & Louison Assié - Directors of Square-eyed
Nathalie de Wulf - Lawyer
Samuel Tilman - Director and spokesperson for "Still standing for culture"
Director's biography
Fédéric Furnelle is a sound engineer and photographer. He has been working for more than 20 years in the field of sound and has to his credit, among other things, several soundtracks for feature films and short films, documentaries, TV series, video installations, etc. In addition, he has directed 3 conferences/reports with still images and sounds.This is his second film. His first film, "Walking for Genna" has won several awards and has been selected for festivals around the world, including the Millennium Festival 2020.